How to Crop Images in Adobe Photoshop Elements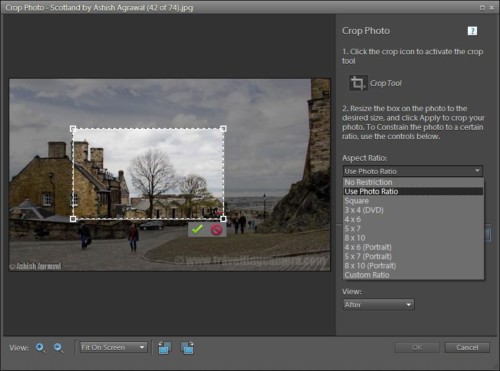 Cropping is a term we've all heard of but what exactly does it mean and how does cropping affect your original picture? When you crop a photo, you are actually removing part of it; either from the top, the bottom, or the left or right side. An important point to keep in mind is that cropping doesn't automatically resize your original picture, it simply takes away the part that you have outlined with your cropping tool.
There are many reasons why one would want to crop a photo. For example, you may notice, after you've taken the picture, that a stranger ended up on either the far left or far right of the photo. Or perhaps the ratio is wrong in that you were looking to capture a beautiful sunset but ended up with too much landscape at the bottom of the photo.
The crop tool has options that allows you to perform very specific tasks when copping, the most common and frequently used are:
Maintaining a Specific Aspect Ratio – Let's say that your original photo is 8 x 10 inches (20 x 25 cm) and you would like to keep that ratio once you are finished the cropping process. By using an 'aspect-ratio' setting (and in this case choosing the 8 x 10 setting), your photo will stay at that ratio.
Switching from Portrait to Landscape – If you are looking to have a portrait orientation but after cropping all you get is a landscape orientation, use this trick. Clicking the arrows between the crop dimensions will automatically flip the orientation.
Cropping to Specific Pixels (or Inches) – You may not always want to crop to specific inches like in the first example but rather to pixels. You may need to choose an exact number of pixels in order to maintain clarity or to fit in say a Web page you already have. Since the Web doesn't recognize inches you can simple ad 'px' to the inches of your photo and magically, your photo editor will understand that you mean pixels.
Cropping is not Resizing – It's important to remember that when you crop a photo, it is being cropped to a specified aspect ratio and not the physical size of the photo. The same holds true when you crop specifying a certain pixel ratio. The Photo Editing software can walk you through the easy two step process that will help you maintain or change the physical size as well as the aspect ratio to produce a picture-perfect outcome.
It's good to have an idea of how you want your picture to end up before you start cropping. You may want parts of one or more sides eliminated or perhaps the orientation is landscape when you were going for your photo to be in portrait. Other factors to consider would be what you intend to do with the finished image. Will you be incorporating them into greeting cards, pictures on a Web site or maybe just to have them better reflect the mood you were originally attempting to capture. Whatever the reason, cropping can be fun and stress-free if you simply follow the easy step by step instructions of your cropping tool.
Even though Adobe Photo Elements has some extremely useful features and are anything but difficult to utilize it truly is adapted towards more experienced image editors, the interface and broad list of capabilities can be somewhat overwhelming for a few. InPixio Photo Editor, a simple to use, yet sufficiently capable photo editing program is great software for beginners. It is available for Windows clients and features a simple to use interface for making easy changes to your photos quickly. Try it today!
Now that we understand what each of these levels does and how they differ from each other lets walk through the steps to adjust contrast and brightness in Adobe Photoshop Elements.
How To Crop An Image in Adobe Photoshop Elements
Step 1: Click on the Cropping tool.
Step 2: From the Tool selection bar, choose the cropping guide that meets your needs. The options are Rule of Thirds, Golden Ratio, Grid, or None.
Step 3: If you want to change the native resolution of the original photo, choose one of the below options from the "Aspect Ratio" menu or you can use custom width and height in the options bar:
No Restriction – Allows you to change the size of the image dimensions.
Photo Ratio – Shows the native aspect ratio of the image when cropping. The Width and Height fields display the numerical values that are used for the cropped photo. The Resolution box allows you to alter the pictures resolution.
Preset Size – Allows you to select a predetermined size for the cropped image. If you are needing a particular size, such as 8 x 10 inches for a portrait frame, this is where you choose this preset size.
Step 4: Click and Drag your mouse over the portion of the photo you want to keep. When you let go of the mouse button, the crop icon looks like a box with handles at the edges and sides.Step 5: Click on the green button located on the right hand bottom corner of cropping icon to save your changes. Alternatively you can just double-click box to make the crop. If you for any reason you need to revert the change press escape key or click cancel.
Built-in Auto Cropping Options
Adobe Photoshop Elements also includes "Auto Cropping" suggestions based on common photo frame dimensions.
To use the automatic cropping options:
1. Open a image in Photoshop Elements.
2. Select the Crop tool. At the bottom 4 options will be displayed in the Tool bar.
3. Click on one you believe will work best for your photo. Keep in mind, when you change "Aspect Ratio" other suggestions will be available in the drop-down list.
Lets learn more about Adobe Photoshop Elements
Below we have gone into detail on some of the more common tools used on images to really make them pop. Feel free to jump to any of the following topics so you can get started right away:
Importing/Exporting Images – Find out the difference between Raster and Vector images, different file formats and how to import/export images into Adobe Photoshop Elements 15.
Adjusting Contrast – This section explains what contrast is all about including Brightness, Sharpness, Saturation/Hue and how they effect your images.
Cropping Images –  Learn how to crop photos while maintaining aspect ratios, how to switch from portrait to landscape mode, crop to specific pixel dimensions.
Scaling Photos – Learn about scaling images in Adobe Photoshop Elements and the differences between cropping, resizing and scaling your photos.
Image Filters and Effects – We show you steps to applying filters and image effects in Adobe Photoshop Elements to spice up your photos!