Scaling Photos in PhotoScape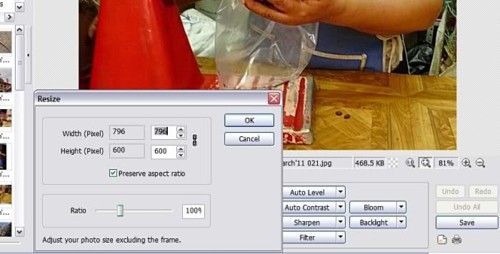 In its most standard definition, scaling a photo merely means making your image larger or smaller sized. Needless to say, there are numerous elements to take into consideration prior to attempting this method in order to preserve the new version of your photo to be as sharp and correct as the original.
In case you're just beginning out editing your photographs, there are a few terms that happen to be typically utilised in most photo editing applications and can trigger confusion should you not fully grasp the difference involving such terms as scaling, cropping, and resampling.
Introduction: Basic Photo Editing in PhotoScape
Part 1. Import/Export Images in PhotoScape
Part 2. How to Crop Images in PhotoScape
Part 3. Scaling Images In PhotoScape
Part 4. Adjusting Contrast and Brightness
Cropping, Scaling, Re-sampling Images
Cropping an image, we explained that cropping a photo merely meant removing a single or more components of the picture from the top, bottom or either side. In this course of action, almost everything else inside your picture remains exactly the same.
Resampling an image differs in that you are changing the pixel dimensions of one's original image. And needless to say, by now we understand that the greater the number of pixels inside the image the sharper it really is. Downsizing an image when you are resampling results in eliminating pixels which in turn deletes critical details and particular information from within the original image.
Scaling an image indicates that you will be re-sizing your photo. There are lots of sophisticated photo editing applications out there. Scaling or 'resizing' is often an extremely basic procedure and doesn't have to be complex. User-friendly photo editing software programs will, in quick order, show you how you can scale any image proportionately regardless of whether you happen to be working in inches, a specified percentage, or in pixels.
Digital images are created using pixels and are defined by a specific number of them in both width and height. One of the main difficulties that frequently comes up in attempting to share pictures that have been taken with a higher mega pixel camera is file size restrictions. Whether it be on Facebook or in an email, the image size can just be massive that is will prevent you from doing anything practical with them.
Having said that, it's critical to scale your original photo down if it features a resolution that's very high. This tends to make it much less difficult to share with family and close friends.
Even though PhotoScape has some extremely useful features and are anything but difficult to utilize it truly is adapted towards more experienced image editors, the interface and broad list of capabilities can be somewhat overwhelming for a few. InPixio Photo Editor, a simple to use, yet sufficiently capable photo editing program is great software for novice users. It is available for Windows users and features a simple to use interface for making easy changes to your photos quickly. Try it today!
Now that we understand the detials behind scaling and resizing images lets walk through the steps required to do so in PhotoScape.
Resize and Image in PhotoScape
Step 1: Go to the Editor window and locate the image you want to resize.
Step 2: At the bottom of your photo you will find the Resize button, click it.
Step 3: Change the new image dimensions and make sure you select the Preserve aspect ratio by clicking the checkbox, then click OK.
If you need to resize multiple images, use the Batch Editor tab. Add a folder and resize all photos in it.
In case you don't know the exact size, you may adjust the Ratio percentage of the original size.
Lets learn more about PhotoScape
Below we have gone into detail on some of the more common tools used on images to really make them pop. Feel free to jump to any of the following topics so you can get started right away:
Importing/Exporting Images – Find out the difference between Raster and Vector images, different file formats and how to import/export images into PhotoScape
Adjusting Contrast – This section explains what contrast is all about including Brightness, Sharpness, Saturation/Hue and how they effect your images.
Cropping Images –  Learn how to crop photos while maintaining aspect ratios, how to switch from portrait to landscape mode, crop to specific pixel dimensions.
Scaling Photos – Learn about scaling images in PhotoScape and the differences between cropping, resizing and scaling your photos.
Image Filters and Effects – We show you steps to applying filters and image effects in PhotoScape to spice up your photos!