< Back to blog
Inspiration
Charming Seasonal Family Photos Made Easy
13 November 2018
'Tis the season to be jolly, whether you celebrate Christmas, Hanukah, Diwali, Yule, Festivus or any other winter holiday. It's also the season for giving, the season for good cheer, and with all that in mind, probably also the season for making a sensible festive budget.
If you plan to send out holiday cards but don't have the funds for a photographer, don't despair: you can recreate the magic of a professional family photo without spending a winter mint. All it takes is the right setting, a little patience and InPixio Photo Editor.
Striking the Right Pose
Family Photos are not just snaps but memories that bring back nostalgic feelings! Beautiful photos begin with poised and elegant poses and can take your still photos to a whole new level.
Before making enhancements to your images with photo editing software, consider adjusting the position of the subject within the frame.
For some great tips, here is a Free Hand Poses Guide For Women that can help create professional poses.
Find the Perfect Location
Some people take seasonal photographs indoors, whereas others pick a favorite outdoor spot. Indoor ideas might include a holiday baking scene in your kitchen, family members gathered in front of a toasty-looking fireplace or a simple set of close-ups on the sofa. Outdoor locations often incorporate fir trees, autumnal fields and leaf-scattered lanes.
The advantage of indoor setups are numerous: you don't have to worry about weather, you are in total control of the background, and lighting is usually a little easier to figure out. To create the right atmosphere, put up decorations in conspicuous spots to make your home look appropriately merry. Consider dressing up for the occasion, too (garish Christmas sweaters are optional).
Effective outdoor portrait photography can be challenging, but when done well, refreshing outdoor photos make great alternatives to cozy indoor shots. When you're outdoors, you're at the mercy of the elements, and you also have to contend with the quality of the light on any given day. Still, family members wrapped up snugly, rosy-cheeked and wearing matching scarves make great subjects.
A Word About Light
The right lighting is tremendously important, whether you choose an indoor or an outdoor setting. Many people assume that bright, direct light is best, but in fact, indirect lighting is far more flattering. When taking pictures indoors, try aiming directional or desk lamps at pale-colored walls, rather than directly at your subjects, bouncing the light off your surroundings for a softer effect. If you decide to take photos outdoors, pick an overcast day rather than a brightly sunlit afternoon to evenly illuminate the features on faces.
Keep the flash on your camera set to the off position—with the exception a backlit scene. For example, if you take a photo of your family standing in front of a beautiful autumn sunset, switch your flash on to ensure you can see each person clearly.
Time for InPixio Photo Editor
Your photo session is done and you've taken the ideal family portrait. What's next? Why, InPixio Photo Editor, of course. Powerful and easy to use, InPixio Photo Editor incorporates a range of useful editing tools and has an intuitive interface, making it ideal for both beginners and for experienced users.
Here's our family holiday photograph in InPixio Photo Editor. At the moment, it's completely untouched.
To brighten and adjust shadows, contrast, clarity, temperature and more, head to the Adjustments panel on the left of the interface. Pulling the shadow slider to the right brightens up areas hidden in shade, which can bring out hidden features like eye color. Increasing the temperature percentage can help warm up a cool photo, while increasing the brightness percentage counters the diminished light on a cloudy day.
When you're satisfied with your adjustments, try playing with the options in the presets panel. Several wintery options exist, including this one, which is entitled Happiness.
If you prefer a bolder look with increased saturation and contrast, try the appropriately named Holiday preset.
For a beautiful vintage look with reduced contrast, increased warmth and a little less vibrance, apply the Lost Treasure preset.
Alternatively, try black-and-white retro on for size with the New Vintage preset.
To apply a vignette to your photo, go to the effects panel and move the slider to the left or right until you're satisfied with the results. Here's the Lost Treasure preset with a 75 percent dark vignette, for example.
Texture adds a beautiful touch to any holiday portrait. This, for instance, is the Happiness preset with one of InPixio's Space textures applied.
Finally, the Frames panel comes into play. Here's the photo above with a Holiday frame applied to it.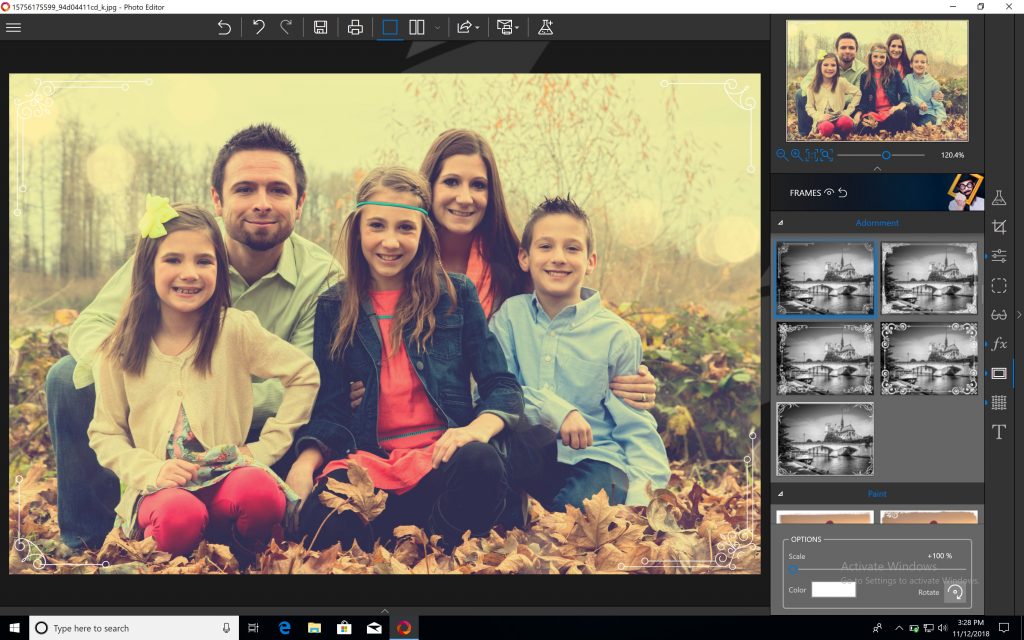 Here's an alternative: the Nashville preset, modified with a Bokeh texture and a beautifully subtle Adornment frame.
Timing is everything when it comes to winter portraits. To ensure your cards arrive with their recipients promptly, take your photos well in advance, so that you don't have to rush the creative process. Using InPixio Photo Editor's powerful features, you can produce your own professional-looking photo card and spread seasonal cheer with a postage stamp.
Photo: Chris Price via Flickr (https://flic.kr/p/q1jw4Z)