< Back to blog
HDR
Top 30 Free and Paid Lightroom Presets
7 July 2020
Photo Studio 10
Use Photo Studio 10, an efficient Lightroom alternative, to improve the quality and the color of photos, change the style of images in one click.
Thanks to a broad range of presets, you can easily improve dozens of shots.
You will get the tools to add a soft horizontal focus and adjust the perspective, more than 100 stickers and text templates. Moreover, there is a red-eye effect correction tool.
30 Free and Paid Lightroom Presets
After you learn how to install Lightroom presets, all you need to do is to choose appropriate effects. Choose free Lightroom presets or paid ones and make your landscape or portrait pictures brighter, increase sharpness, etc.
1. Must-Have Collection of Lightroom Presets
Change contrast, increase the brightness of the photographs, add warm or cold colors – this is not a full list of edits you can do with the help of the Must-Have Collection. The bundle includes 1432 presets and 42 brushes to have an opportunity to edit pictures quickly in various styles.
2. Entire Collection Lightroom Presets
One more collection of Lightroom presets for all occasions. You can edit photos from romantic photoshoots, from a wedding or a family holiday. There are 2067 presets and 42 bonus brushes in the collection. You may lighten the photo, raise contrast, or apply a special blue filter.
3. Wedding Lightroom Presets
Download a collection of wedding free Lightroom presets and you will get 10 instruments to improve the pictures in one click. A paid collection consists of 400 presets. You can apply a vintage effect, add green tones or make elegant black and white photos.
4. Real Estate Collection of Lightroom Presets
There are 120 professional presets that will make real estate pictures more attractive to potential clients. Make the sky in the background bright-blue or attract the attention to the transparent water in the swimming pool, using the tools presented in the collection.
5. Portrait Pro Lightroom Presets
Portrait Pro Lightroom Presets is a collection offering 40 presets for portrait photographs. Add some cold colors to your JPG and RAW pictures, accentuate details in the portrait and make it more cinematic.
6. Mobile Lightroom Presets
This collection of presets is designed for editing photos in the mobile version of Lightroom, still being compatible with any version of the program. Use a special free Adobe preset from the package to make your smartphone pictures brighter or darker, add blue or bronze tones. Then, share the picture on Instagram or Facebook.
7. HDR Lightroom Presets
This collection contains 10 presets and was developed to adjust color tones, intensity, brightness, and contrast in landscape pictures. You will get realistic photographs with an increased dynamic range. Download Photoshop textures or Photoshop overlays to add realistic clouds and water to your nature photos in several clicks.
8. Matte Complete Collection of Lightroom Presets
Add matte finishing to your photos to create the effect of pictures printed on the matte paper. Background with blurred details allows you to concentrate on the main object. There are 130 professional tools in the collection.
9. Luxe Wedding Bundle Lightroom Presets
Another collection of Adobe Lightroom presets which comprises 230 tools is designed for enhancing wedding photographs. You will get the tools to edit photos taken both outside and inside. These presets will make the images brighter, add light colors and, focus the attention on the emotions. For deeper photo retouching, you'd better address a wedding photo editing service online.
10. Interior Photography Lightroom Presets
In this collection, you will find 40 presets to improve interior pictures. You can add brighten up space, change the color palette, and add some accents. The photographs will look natural and attractive.
11. HDR Real Estate Lightroom Presets
The pack is created for editing real estate photos. It contains 40 presets, with the help of which you can make bright HDR pictures. Instead of dark images of the house with an unattractive faded lawn, you are going to get high-contrast photographs with a bright-green grass and the clear blue sky.
12. Exterior Real Estate Lightroom Presets
40 professional free Lightroom presets developed to improve the quality of the photos of the exteriors. You can add light colors and make the details clearer or make the shades in the evening pictures brighter.
13. Vintage Love Lightroom Presets
If you wish to add vintage effects to your photographs, just add this free Adobe preset collection to your personal kit. Among 40 presets you will find the tools that add yellow shades, make the images lighter and adjust contrast. These presets are good for weddings and romantic pictures.
14. Sepia Fantasy Lightroom Presets
Another collection of presets to create vintage photos. Apply one of 60 filters and you will get a beautiful combination of brown colors with the shades of different intensity. Universal presets are good for various genres of photography, either a love story or a portrait photoshoot.
15. Dark Moody Lightroom Presets
This collection includes more than 40 presets to create moody photographs with a special atmosphere. You may add violet or grey colors, apply a brown filter, or emphasize the deepness of pink shades.
16. Matte Dream Lightroom Presets
A wonderful bundle for those who love matte effects. It is a compilation of 70 presets and a free bonus – 70 black and white free Lightroom presets. Apply one of the presets offered to emphasize deep blue shades or create the contrast between the landscape and the subject in the picture.
17. Dark Film Lightroom Presets
How can you get pictures just as good as shots from the movies? Try the collection of 25 Dark Film presets. Amazing colors and grain will turn your RAW images into the shots worth being included in the professional photographer's portfolio.
18. Black & White Lightroom Presets
If you download this collection of presets, you will get 70 professional tools to create black and white pictures in one click, and 60 Sepia presets as a bonus. With these monochrome presets you get clear and contrast black and white shots that perfectly show the characters' emotions.
19. Majestic Landscape Lightroom Presets
It is a collection of 30 presets for landscape image editing. With these tools, you may create the shots that will be both realistic and a bit fantastic. Instead of faded details, there will appear emerald grass, turquoise ocean, and mesmerizing blue sky.
20. Winter Lightroom Presets
How to make winter photographs livelier? Just add the snowflakes, using the Let It Snow Lightroom Presets pack. There are 40 plug-ins in the collection.
They will be good for both funny children photos and romantic stories. In addition to the snowflakes dancing across the frame, the shades will become deeper and more interesting.
21. Chocolate Effect Lightroom Presets
Chocolate Effect Lightroom Presets is a set of 25 free Lightroom presets designed to add warm chocolate colors. These presets will be perfect for editing portrait photos and will give the model's skin a beautiful bronze color.
22. Product Photography Lightroom Presets
40 presets to edit product images! These tools will be useful for editing photos for web-stores and offline retailers. Such a set will make the pictures brighter and sharper, and therefore the pictures will become more interesting for consumers. Also, there are 70 bonus black and white free Lightroom presets.
23. Orange & Teal Lightroom Presets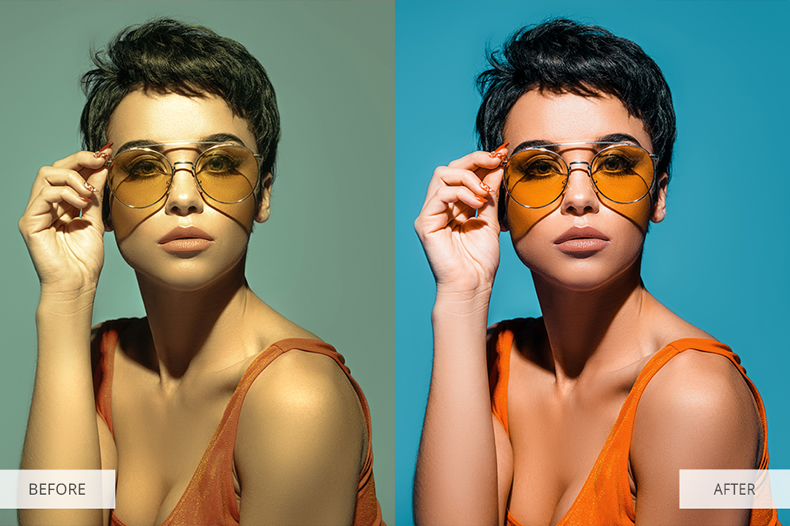 With this collection of presets, your images will acquire the Orange and Teal cinema effect. Blue, orange, and brown colors will look more saturated.
The set includes 30 presets that will be great for images from the trips, landscape shots, urban images, and aerial photography.
24. Matte Portrait Lightroom Presets
The collection of Matte Portrait presets adds a Matte effect to the portrait photos. You can make the pictures more delicate and mysterious, adding some blurred colors. There are 30 presets in the collection, plus you get 70 Adobe Lightroom presets free of charge. For further photo retouching, you may download professional portrait Photoshop actions.
25. Newborn Pro Lightroom Presets
The collection of presets covers 40 tools, with the help of which you can make the colors softer and clearer, add some crème colors to the model's skin, and apply the pink filter. With these presets, you will save the realism and softness of the children photos.
26. Honey Moon Lightroom Presets
The Honey Moon presets will bring a beautiful matte tone to your pictures. Their soft color palette will make photos more romantic; the atmosphere of old movies will appear. There are 30 presets in the collection, which are absolutely indispensable for editing wedding photos, love stories, and portraits.
27. HDR Effect Collection Lightroom Presets
How to add an HDR effect to the photograph just in one click? Use one of 40 presets from the HDR Effect collection, to convert faded landscape photos into bright shots.
It works with both RAW and JPG files too. You may apply the presets not only to landscape photos. For example, you can experiment with the slight HDR effect in your portraits.
28. Film Effect Lightroom Presets
You can use these presets if you want your photos to look more cinematic. The presets from the Film Effect bundle add special effects to your photos just in one click, so that the photos look like frames from fantasy or western movies. There are 30 presets in the collection and 70 B&W free Lightroom presets as a bonus.
29. Cinematic Lightroom Presets
Download these 40 Cinematic Colors presets for Lightroom to add Hollywood tints to your photographs, just like in a movie. You can change not only the color palette, but also the mood of the picture. The presets are good to edit portraits, street photos, urban landscapes and photographs from the trips. To repeat the same color grading with videos, use these free LUTs and video overlays.
30. Underwater Photography Collection of Presets
30 presets from the Underwater Photography collection were created to edit the shots taken underwater. Your images will become lighter, with brighter colors, and clearer details. In addition to the main presets, there are 10 mobile free Lightroom presets as a bonus.