< Back to blog
HDR
10 Double Exposure Tips for Photographers
7 July 2020
Looking for a simple guide with double exposure tips to help you create stunning photos? Double exposure might seem difficult to achieve but using the tricks below you will be able to easily do it in-camera or in a photo editing software.
InPixio Photo Studio
InPixio Photo Studio is the easiest program to create double exposure in several clicks. With its help you will be able to edit and enhance your photos. It's very simple to use and doesn't require special experience.
It doesn't matter if you want to slightly edit your photos, change or remove background or add multiple exposure effects, with InPixio Photo Studio you will achieve stunning results.
10 Simple Double Exposure Tips
Follow these simple but useful double exposure tips and create a surreal or classic double exposure effect within several minutes even if you are new to it.
1. Use a Neutral Backdrop for the Base Photo
The first tip of any double exposure Photoshop tutorial is to use a neutral background in the base photo. It should have calm colors. Plain white or black are great as well.
This will highlight the object and it will be easier to remove the background. Leaves or other texture on the background will make the whole process more complicated. You may use clear Photoshop overlays and monochrome Photoshop textures as a background photo.
2. Use a Colorful Texture for a Layer Photo
For the second photo you need an image with a lot of color and texture. Remember that everything you shoot needs to be properly lit. This takes a long way to make the final image look eye-catching.
Try using photos of autumn leaves, flowers, trees, sunsets, clouds, textured wallpaper, etc. If the texture is uneven, think about where your object was in the frame and make sure that it's placed across this area.
Use additional colors in the base and layer photo to make it look attractive. To avoid troubles, download ready-to-use Photoshop actions that provide a bundle of layer images which can be used for double exposure photography.
3. Make Sure You Have the Right Equipment
If you wish to achieve this effect in-camera, remember that not all DSLR and mirrorless cameras have multiple exposure mode.
You can use Canon EOS 5D Mark III, Canon EOS-1D X, Canon 70D, a few professional Nikon DSLR cameras including Nikon D800 and Nikon D300, Fuji X-Pro1, Fuji X100s, Olympus OM-D E-M5 and some Pentax cameras, such as K10D.
All these cameras have multiple exposure capabilities. A tripod, shutter release cable and flash will also be helpful.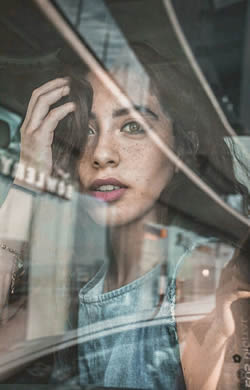 One of our favorite photography techniques is to use reflections from windows to achieve fake double exposures. You don't need to perform any picture post-processing or manipulation in-camera, and it is a nice way to start.
All you have to do is to place the object behind the glass and focus on it while shooting the reflection of the glass. You may repeat the same double exposure effects with videos too. Having applied LUTs and video overlays you will make your clips professionally looking.
Go outside and try to do it with multiple windows in your city to get various reflections. Many buildings can provide nice reflections. Anything made of glass, metal or marble can help you achieve nice photos with reflections.
5. Work with Silhouettes
Another good tip for double exposure photography is to use silhouettes. To do it, you need to take an underexposed portrait or a backlit one.
You can use yours or other people's silhouettes. Everything eye-catching can help you achieve interesting composite images.
6. Merge More Exposures
If you are experienced in double exposures, you can advance your skills and create multiple exposures. For this, merge three or more photos.
The final photo might not look very nice at the first try. But after some training, you will be able to achieve stunning results.
For merging a few photos, we advise using images with similar colors. As a result, the final photo will look accurate.
Also, you can take double exposure portraits from close and from distance, merge them and achieve a tunnel effect. If you can't make it realistically, outsource it to photo retouching services.
7. Represent Motion
Combining multiple exposures is especially convenient if you want to show movement. For example, it can be a biker who does tricks or a ballerina who's dancing. By combining several photos taken from the same angle with various exposures, you will be able to see a trace left by a moving object.
This lets viewers imagine that movement in their heads but by using only one static image consisting of several exposures.
8. Merge Two Faces
For amazing double exposure portraits, you can combine the faces of two people or a face from one person but twice. Take photos of your model with different facial expressions, merge them and you will achieve artistic and interesting results.
On the other hand, combining two different people can give you various effects. For instance, an old woman's face combined with a little girl's face can create the feeling of speeding time. A face with scars merged with an undamaged face will show the tragedy of war.
Remember to have the same lighting and contrast in both photos. In this way, the double exposure effect will look natural and it will take you less time to create it.
9. Create B&W Double Exposure
Black and white photos will help you highlight the emotions in your images. You can take your initial photos in black and white or convert them after.
This creates a unique depth in your photos and lets you try something similar to classic double-exposure film photography.
Black and white colors also help merge two images more smoothly so that it's more difficult to understand where the first ends and the other begins. To make photos professionally black and white, use the best presets for Adobe Lightroom.
10. Use an Animal Silhouette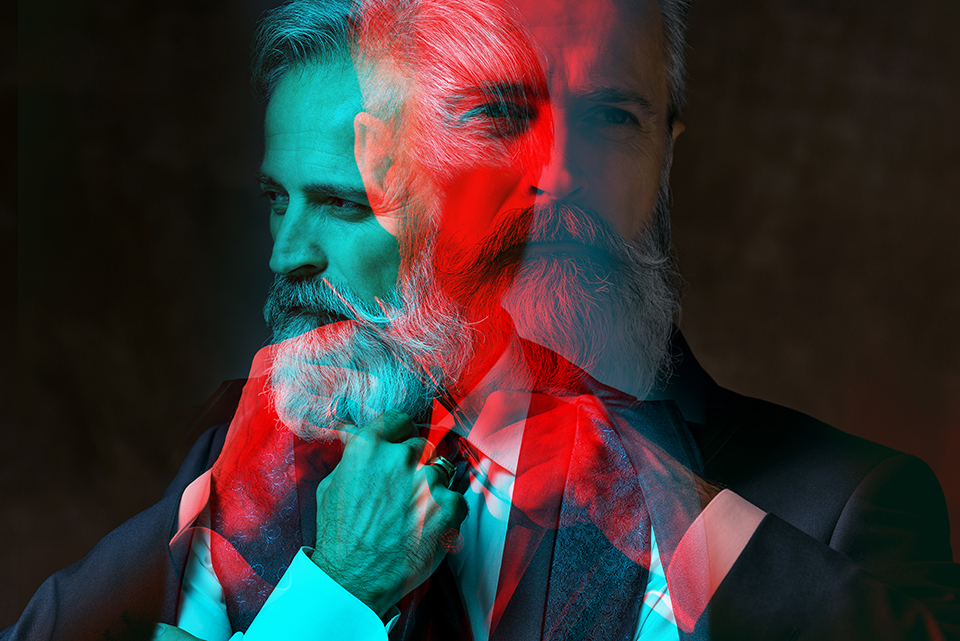 Another idea for a good double exposure photo is to use images of animals. For instance, you can use an image of a puma combined with a photo of an athlete. This will add the feeling of speed to your final photo.
Also, for your double exposures, you can use a self-portrait and merge it with your favorite animal. Using your pets will provide you with very emotional and beautiful photos.
If you don't have a pet or don't have photos of animals, you can use one from free stock websites.