< Back to blog
Inspiration
8 Great Free Photoshop Alternatives to try today
27 August 2021
Are you looking for free alternatives to Photoshop? Whether it's to save on subscription fees, or just to try something new, there are lots of reasons to branch out with different photo editing software. Photoshop alternatives can also be a good option for beginner photo editors, as some of them are easier to learn and operate.
Navigate this post:
What's the best alternative to Photoshop?
Photoshop offers a vast array of features to cater to the needs of different professionals. Photographers don't necessarily use the software in the same way as graphic designers, for example. Here are some popular Photoshop features you may be looking for:
Photo composites
Retouching
Brushes
Text and graphics
Subject selection
Even among the best free Photoshop alternatives it may be difficult to find one that does everything. Identifying what kind of editing you want to do will help you select the right Photoshop substitute for your needs.
Free Software like Photoshop
Many software companies provide free solutions that are similar to Photoshop but with more limited features. The advantage of these programs is that they are usually simpler to get to grips with than Photoshop, making them ideal for editing newbies.
Photo Studio Free
This is the free photo editor version of the flagship Photo Studio software. It aims to make photo editing accessible even to beginners. At the same time, it provides a lot of features popular in Photoshop. For example:
Editable filters and textures
Effects such as frames and vignettes
Full range of adjustments (hue, temperature, contrast, saturation, exposure etc.)
The free editor comes with a 5-day trial of Photo Studio Pro. This lets you test a range of additional tools such as background removal, sky replacement, erase and clone, auto-correction and more.
Photoscape X
Another downloadable option is Photoscape X. This is an all-in-one editing program that offers many Photoshop-like features. Photoscape tools include:
Editing colors
Slicing photos into pieces
Batch processing options including resize, and rename
Creating GIFs
Converting Raw files
Tools and brushes, including Clone Stamp
Focus stacking
A more advanced version of Photoscape X is available to purchase if you want to upgrade your editing tools.
Paint.NET
Another free option for PC is Paint.NET. This program also boasts some Photoshop-like tools, but is generally considered easier to use. Features include:
Layer-based editing
Color adjustments
Tools for creating photo composites
Support for various image formats
Photo effects
Support for file type, shape and effects plugins
Paint.NET is another Photoshop alternative that is exclusively available for Windows.
Open-source Photoshop Alternatives
Even though they are free, many Photoshop alternatives have premium versions and options. If you want to avoid this, you could opt for an open-source software.
GIMP
The GNU Image Manipulation Program is probably the best-known free Photo Editor. What's more, it has been described as the closest thing to "free Photoshop" available. The range of tools is extensive, here are some popular examples:
Nondestructive editing with layers/masks
Tools for creating photo composites
Suite of painting tools
Range of corrections including perspective
Tile-based memory to handle large images
Supports plug-ins for new formats, filters etc.
Customizable interface
GIMP is more complex than some other editors in this list, but if you're used to working with Photoshop this may not be too much of a problem.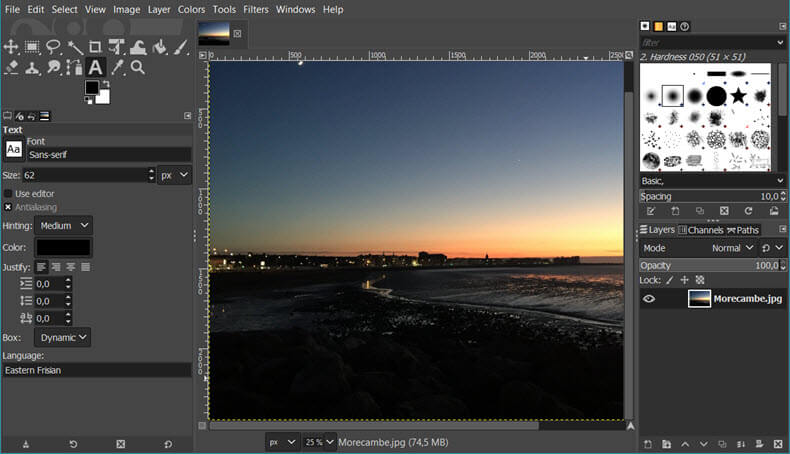 Krita
Krita is an open-source editor aimed especially at illustrators, cartoonists, and other artists. Krita's focus is on digital painting and it provides an extensive toolkit for this.
100+ preloaded brushes
Brush customization and drawing assistance
Import brushes and create your own
2D animation
Layer editing
HDR painting
Vector and text Tools
Krita supports PSD files, making it possible to edit your Photoshop projects. You can also save to PSD and work across both programs. The program is available for Windows, IOS and Linux.
Online Photoshop Alternatives
Many free photo editors like Photoshop are in-browser online experiences. These have the advantage of not weighing down your laptop, though you will need a good internet connection.
Pixlr E
Pixlr comes in 2 versions: Pixlr X and Pixlr E. E is the closest to Photoshop in terms of features, whereas Pixlr X is aimed more at beginners to photo editing.
Pixlr is a feature-rich online editor, though some tools are for subscribers only. Here are some of the features you can use for free:
Layer editing
Heal and clone tools
Text styles
Selective retouching of vibrance, saturation etc.
Range of effects, including blur and smudge
Image cutout and mask
Drawing tools and color picker
The interface is nice and clear for an advanced editor, and tools are marked with short descriptions. Designers will also find a selection of templates and images to create graphics for social media.
Photopea
Photopea is quite similar to Pixlr. Both photo editors come with advanced editing tools, and both can open Photoshop files. Here are some top Photopea features:
Layer edting
Brushes
Dodge and burn
Making selections
Adding text
Filters and adjustments
Vector graphics
In Photopea all features are free to use. There is also a detailed user manual available online.
Fotor
Fotor is another popular choice in online Photoshop alternatives. It aims to provide an easier-to-use experience than other online editors. Fotor offers a few useful Photoshop substitute features, such as:
Image effects and enhancements
Photo retouching options
HDR editing
Background removal
Adding text
Like Pixlr, some features are reserved for subscribers and will give you watermarks on your pictures.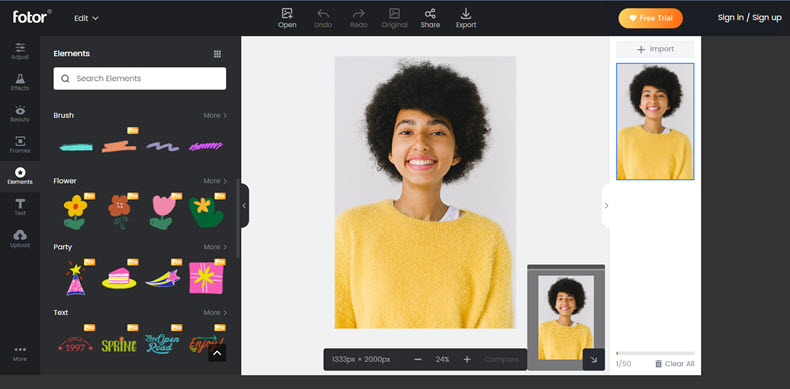 Which Photoshop alternative is best for you?
This really depends on what kind of editing you want to do and your level of photo editing experience.
If you're a complete beginner, there's nothing to stop you diving in at the deep end to master a fully-featured program like GIMP. However, you might find it easier to start slowly with a simple download or online program. Using a software like inPixio's Free Photo Editor, you can do a range of edits in a few clicks, without needing to constantly check tutorials
If you're a seasoned Photoshop user, your best Photoshop alternatives will depend on your usage. For example, digital artists relying on brushes might enjoy testing Krita. All-rounders might opt for Pixlr, Photopea or GIMP.
The best thing about free Photoshop alternatives is that you can try as many as you like, and find out what works best for you. Happy editing!