< Back to blog
Photo Editing Software
The best photo editing software for pc: free download apps for Windows
18 June 2021
A lot of photo editing is done on mobile phones these days. Still there's nothing like having a full PC photo editor to retouch on a big screen.  Simple software solutions can help with the task of fixing imperfections, poor lighting, scale, size, brightness & contrast issues.
Whether it's touching up Instagram pictures or adding filters, almost everyone has use for free photo editing software on their Windows PC.
In this article, we share some of the best photo editing software for pc free download options available and see how they stack up to inPixio's free photo editing software.
Best free photo editing apps for PC – top 5
If you're not ready to invest in a paid app just yet, why not try some free photo editing software for PC? Here are 5 free Windows photo editors to help you get started with your image editing.
GIMP
Free photo editor by inPixio
Photoscape X
Paint Net
Windows Photos
GIMP (GNU Image Manipulation Program)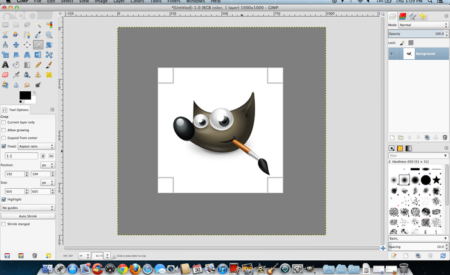 GIMP stands for GNU image manipulation program. It is an open source photo editor available for Windows PC . GIMP has been described as the best free photo editor like Photoshop, due to its extensive selection of advanced photo editing tools. Top features include:
Customizable interface
Range of corrections including perspective
Create photo composites
Non destructive editing with layers/masks
Suite of painting tools
Tile-based memory to handle large images
Supports plug-ins for new formats, filters etc.
GIMP is available to download for PC, Mac and Linux. On PC, you can install it on Windows 7 or later (32-bit and 64-bit versions).
Paint .Net
Paint Net started out as a student project supported by Microsoft. The story goes that it was originally intended as a free replacement to Microsoft Paint.
However, today Paint Net has evolved into a full-featured photo editor with a range of professional tools.
Top functions include:
Non destructive editing with layers
Color adjustments
Range of effects
Photo compositing
Support for multiple image formats:
Supports plugins for new effects, shapes, file types
You can download the software for free for Windows 7 SP1, 8 and 10 (full requirements here). Alternatively, you can also purchase it for $6.99 from the Microsoft Store (Windows 10 only). Purchasing the software gives you access to automatic updates.
Photoscape X
Photoscape X is a free download for Windows 10 offering a range of photo editing tools.
In addition to image editing functions, the software also provides screen capture capability.
Here is just a selection of the features:
Retouch photos and edit colors
Create collages and cut photos into pieces
Batch processing to edit multiple photos at once
Create GIFs
Convert Raw files to JPG
You can download Photoscape X from their website. The app is also available from the Microsoft Store where you can also purchase a paid Pro version of the software.
Photoscape X works on Windows 10, 64-bit (Version 1709 or later). For Windows XP, 7, Vista or 8 another version of the software is available, Photoscape 3.7.
InPixio Free Editor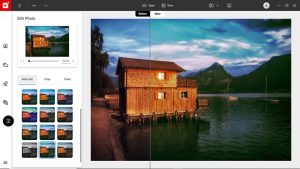 This free photo editor is derived from inPixio's flagship Photo Studio software. The free app doesn't contain all the advanced features available in the paid program. However, it offers some easy-to-use tools that can help you get started with image editing.
Here are some examples:
One-click filters, textures and LUTs
Adjustment sliders for brightness, contrast, hue etc.
Vignette effect
Selection of digital frames
Crop tool with multiple presets
Before/after comparison
The free editor is available exclusively for Windows PC download. It runs on Windows 8 (64-bit version) 10 and 11. Find out more about the image editing tools available in inPixio's free photo editing software.
Read more about InPixio Photo Editor
Windows Photos
Finally, did you know that Windows 10 users have a free photo editing app at their fingertips?
This is called Windows Photos and it provides a selection of basic editing tools.
For example, you can:
Crop pictures
Test different image filters
Do some light and color adjustments
Try adding effects to a photo.
These tools could help you out with some basic photo editing on your Windows 10 PC.
Comparing free download photo editors
As we see above the InPixio Free Photo editor stands out in certain areas but most noticeably when it comes to the ease of use and straight forward modern interface.
Original frames: Use classic frames, design frames, colored or fun frames to create unique pieces of art!
Filters & effects: themes likes vintage, black & white, seasons, old film, cinematic, and much more!
Textures
Vignetting – create professional looking photos with oval frames.
Crop your photos then add frames, texture overlays, and more.
Software contains numerous slider adjustments such as contrast, brightness, saturation, etc.
Above all, the program is easy to get to grips with, even for photo editing beginners.
inPixio free photo editor demonstration
Beautiful Frames
inPixio Photo Editor allows you to add unique picture frames to your photos to help accentuate certain aspects. What's more, you can adjust these frames to fit your photos by editing the size and color.
Access advanced editing features on your Windows PC with inPixio Photo Studio
inPixio's free photo editor  makes creating professional looking photos fun and easy for even first time users.  In no time at all you will be ready to upgrade to inPixio Photo Studio Pro which offers a wide array of additional features, allowing you to create even more professional photos that will impress even the seasoned photographers among your family and friends.
Instructions are clear and simple to understand. Once download is complete, you are ready to begin transforming all your precious photos into works of art.
Remove objects and distractions from photos, using the Erase and Clone tools.
Remove and change photo backgrounds.
Use inPixio sky replacement to change the mood in your photos.
Easy corrections for noise and sharpness
Easy background blur and creative blur effects.